Past Features
This page lists out the IEM Daily Features for a month at a time. Features have been posted on most days since February 2002. List all feature titles.
Cancelled Football Game
02 Sep 2018 09:03 PM
The ISU vs South Dakota State football game got cancelled Saturday evening due to lightning. The game started on time, but was suspended shortly thereafter once lightning was detected near the stadium. The policy is for the game to resume once there has been at least 30 minutes of no lightning within 8 miles of Jack Trice Stadium. The featured chart presents the time duration since the latest lightning strike within 8 miles for the evening of the event. This analysis shows only a brief window of time just before 9 PM that this 30 minute rule requirement would have been satisfied. Otherwise, the game could have only resumed around 1 AM!
Voting: Good - 19 Bad - 1
Tags: football lightning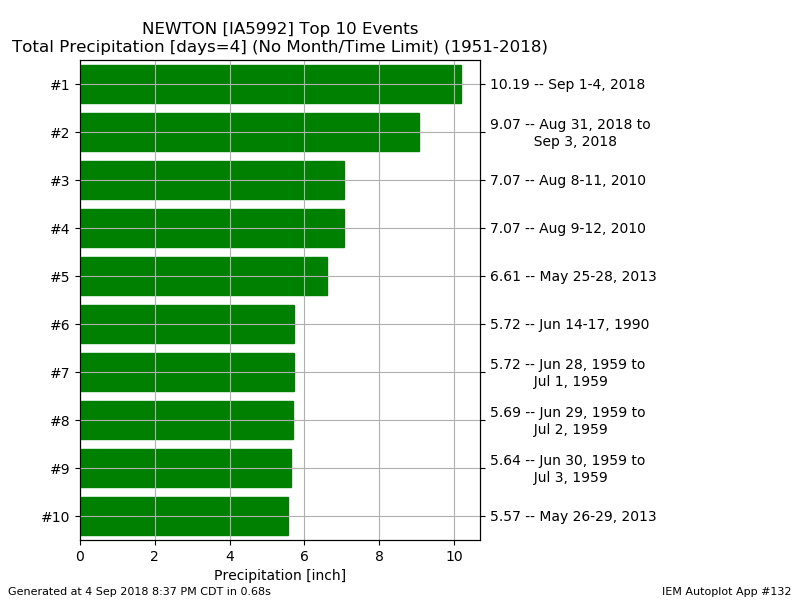 Record Four Day Rainfall
05 Sep 2018 05:18 AM
Rainfall totals continue to pile up and now to add insult to injury, a slug of moisture from Tropical Storm Gordon is headed our way. The featured chart shows maximum four day precipitation totals for Newton. Based on preliminary data, the first four days of this September were the wettest four on record for the site with over ten inches reported. If there is any good news in all of this, the heaviest rains over the next few days are expected to stay south of the heaviest rainfall totals that fell so far this month.
Voting: Good - 8 Bad - 1
Tags: sep18
Generate This Chart on Website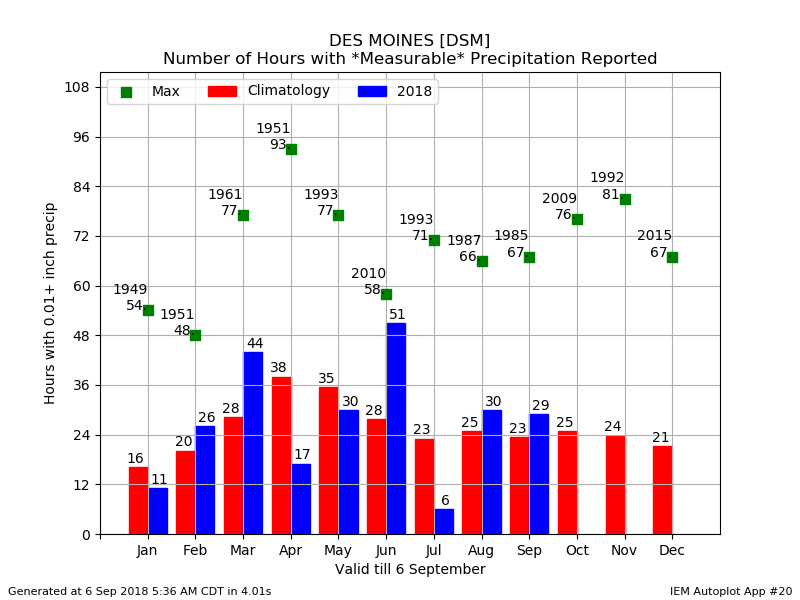 September Precip Hours
06 Sep 2018 05:42 AM
Rain was again common on Wednesday as has been the case this entire September. The featured chart totals up the number of hourly reports that had measurable rainfall for the Des Moines Airport. This year's total is shown along with a long term average and the maximum monthly value. Our total this September is already above average and we are only five days into the month! The total for July sticks out as well as after the epic deluge on the evening of 30 June, the rains basically stopped for the area.
Voting: Good - 10 Bad - 1
Generate This Chart on Website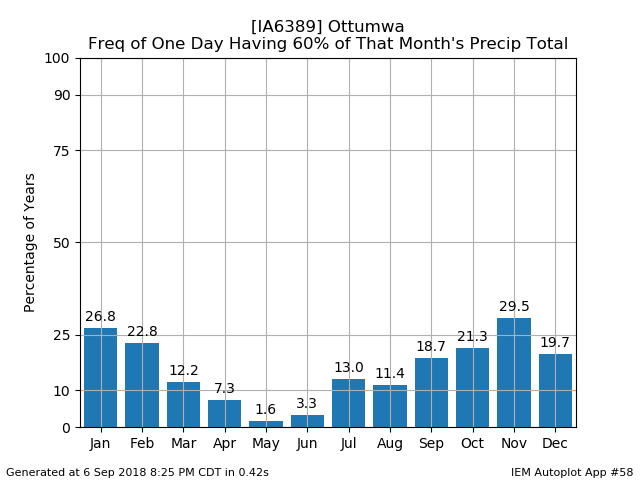 60% of Monthly Total
07 Sep 2018 05:36 AM
The heavy rainfall events of the past week or so have thankfully subsided for now with only far southeastern Iowa expected to see much rainfall over the coming week. It will take a number of daily features to show through the rainfall totals and interesting stats from this recent event. Today's feature looks at how often a single day's precipitation total is at least 60% of the total for the month. On 28 August, Ottumwa reported 4.07 inches which was 60% of the total for the month of 6.71 inches. Having this combination is most common during the lowest precipitation months of the cold season when climatological totals are lower and individual heavy rainfall events are more anomalous.
Voting: Good - 12 Bad - 3
Generate This Chart on Website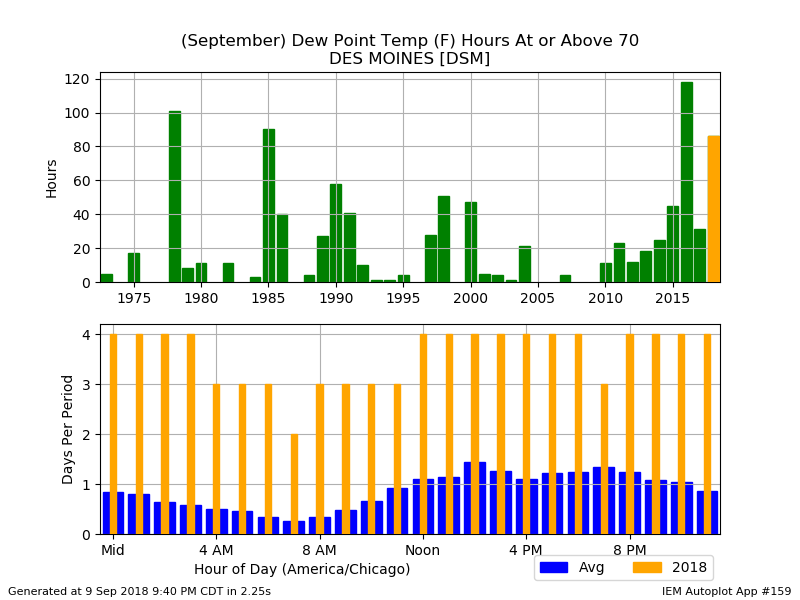 70+ Dew Points during September
10 Sep 2018 05:25 AM
After a very humid start to September, drier and cooler air visited Iowa. The heat and humidity are set to return this week with dew point temperatures perhaps reaching the miserable 70 degrees again. The featured chart looks at the frequency of having such warm dew points during September for Des Moines. The frequency is expressed in number of hourly reports with such a reading. Of course the 2018 total is still in progress and already well above most other years since the early 1970s.
Voting: Good - 9 Bad - 4
Generate This Chart on Website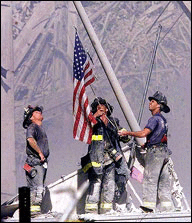 AP Photo
11 September 2001
11 Sep 2018 05:34 AM
The years continue to pass, but may we never forget that fateful day back in 2001.
Voting: Good - 0 Bad - 0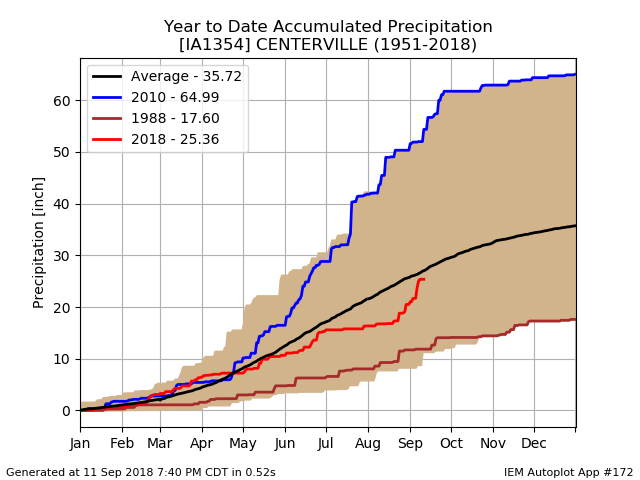 Almost Back to Average
12 Sep 2018 05:12 AM
The very wet weather of late August and early September have taken a bite out of the drought conditions over far southern Iowa. The featured chart depicts year to date accumulated precipitation for Centerville (far southern Iowa) with the envelope of observed values shaded in brown and this year's value in red shown in comparison to long term average along with the most extreme years. The deficit this year was almost erased by the recent rains. The weather has turned drier and warmer this week, so it will take more rainfall later this fall season to erase.
Voting: Good - 11 Bad - 0
Generate This Chart on Website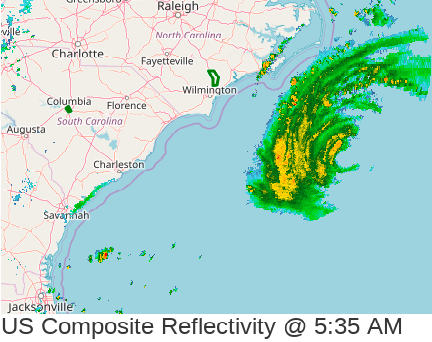 Hurricane Florence
13 Sep 2018 05:42 AM
The eye of Hurricane Florence is now visible on the US NEXRAD composite generated by the IEM. The storm is of great concern for the southeastern US as it is expected to take its sweet time coming onshore and meander south during the process. While the maximum wind rating and thus the hurricane category has recently decreased, the storm is extremely large with a large area of tropical force winds. It will also be a prolific rainfall producer.
Voting: Good - 11 Bad - 0
Tags: hurricane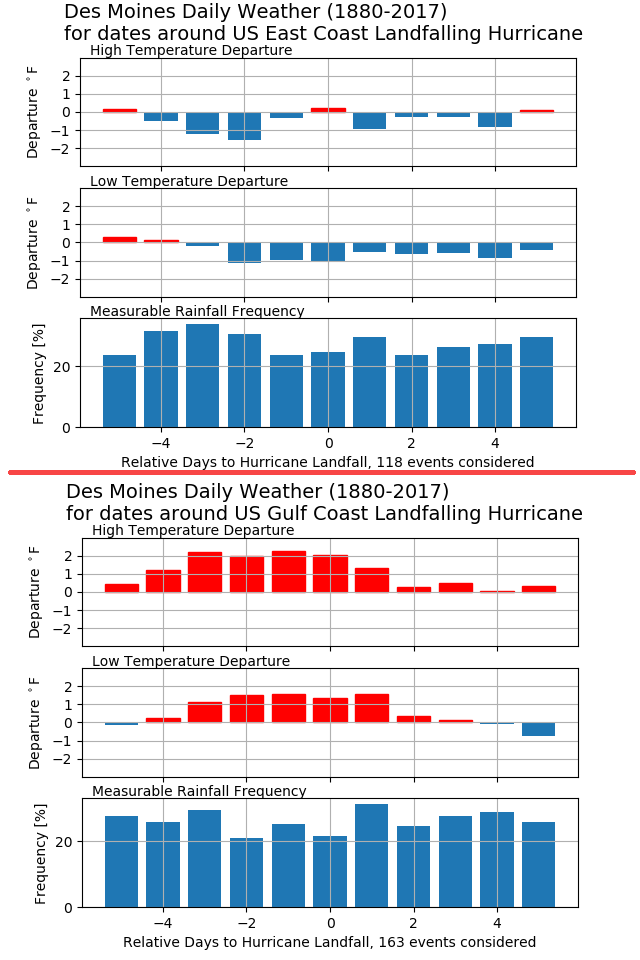 landfalls based on HURDAT2 archive
Landfalling Hurricanes and Iowa
14 Sep 2018 05:34 AM
Hurricane Florence has taken its sweet time to make landfall on the eastern coast of the US. Do landfalling hurricanes impact Iowa weather? The featured chart attempts to address that question by looking at the average temperature departures and precipitation frequencies for Des Moines for a period of days relative to the landfall event. The charts are partitioned by if the hurricane made landfall on the east coast or gulf coast. While the magnitudes are small, a comparison of the impact on temperatures is interesting and would indicate that gulf hurricanes slightly boost temperatures and east coast hurricanes slightly dip temperatures. Our actual weather with Florence isn't exactly following this climatology as temperatures have been above average prior to its landfall. The impact on precipitation does not appear as obvious.
Voting: Good - 10 Bad - 0
Tags: hurricane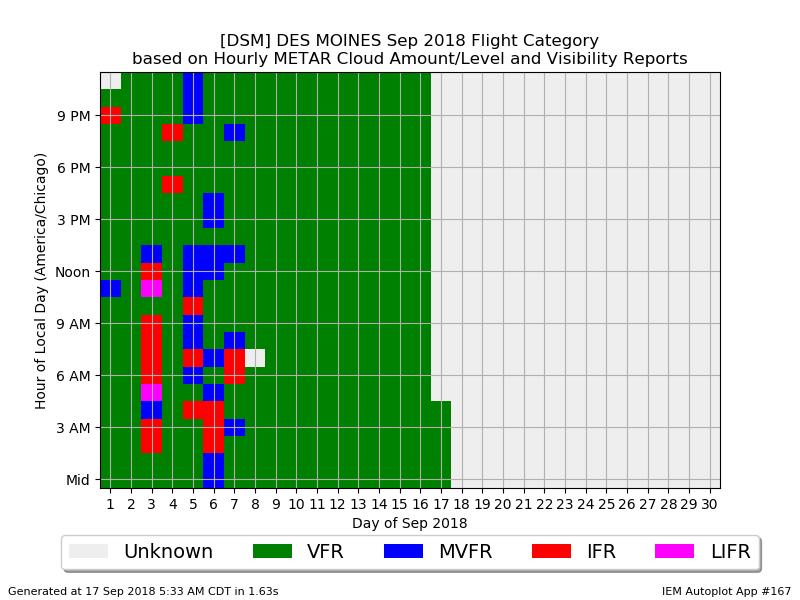 September Flight Rules
17 Sep 2018 05:34 AM
This September has been seen two distinct periods of weather so far. The first week or so was extremely wet and now the last week or so has been bone dry and warm. The featured chart looks at the hourly flight rule status for the Des Moines airport so far this month. The two periods can be discerned with plenty of flight issues found over the first seven days and no issues since. Monday is expected to be hot and mostly dry for much of Iowa while better rain chances arriving on Tuesday and a turn to cooler conditions.
Voting: Good - 7 Bad - 0
Generate This Chart on Website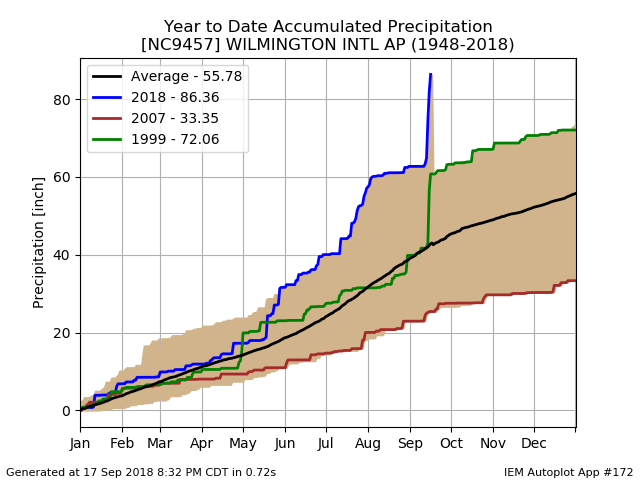 Wilmington, NC Record Rainfall
18 Sep 2018 05:34 AM
What's left of Hurricane Florence is finally moving up the eastern US coast. It left a tremendous mess over North and South Carolina after dumping a significant amount of rain. The featured chart shows the year to date accumulated precipitation for Wilmington, NC for this year, 1999, 2007, and the observed range based on period of record data. Even before Florence, the site was already at a record accumulation. The year of Hurricane Floyd (1999) is plotted as well, as it was the previous record accumulation and whose jump in year to date total came about at the same time as Florence.
Voting: Good - 16 Bad - 1
Generate This Chart on Website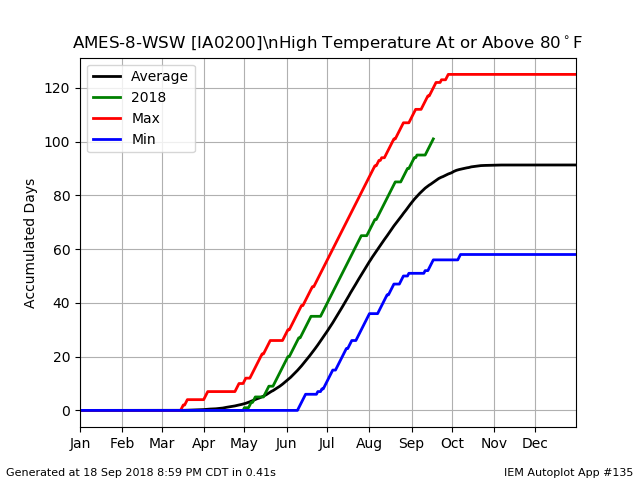 80+ Degree Days
19 Sep 2018 05:33 AM
Tuesday was another very warm September day in Iowa until storms knocked temperatures back into the 60s and low 70s. Ames was able to reach 80 degrees again for over the 100th day this year. The featured chart displays the number of accumulated days with a high temperature of at least 80 degrees. The average line shows that by the end of September, we mostly stop accumulating days with this warm of a high temperature. The forecast expects a few more warm days before cooler weather arrives for the weekend.
Voting: Good - 8 Bad - 0
Generate This Chart on Website