Past Features
This page lists out the IEM Daily Features for a month at a time. Features have been posted on most days since February 2002. List all feature titles.
Mild Halloween
01 Nov 2018 05:35 AM
Temperatures for Halloween were mild with highs above the long term average for the date. The featured chart displays the daily high temperatures reported for Des Moines on 31 October. The long term average is shown with the high on Wednesday above five degrees above that level. We look to have another pleasant fall day in store on Thursday before rain moves in for the weekend.
Voting: Good - 7 Bad - 1
Generate This Chart on Website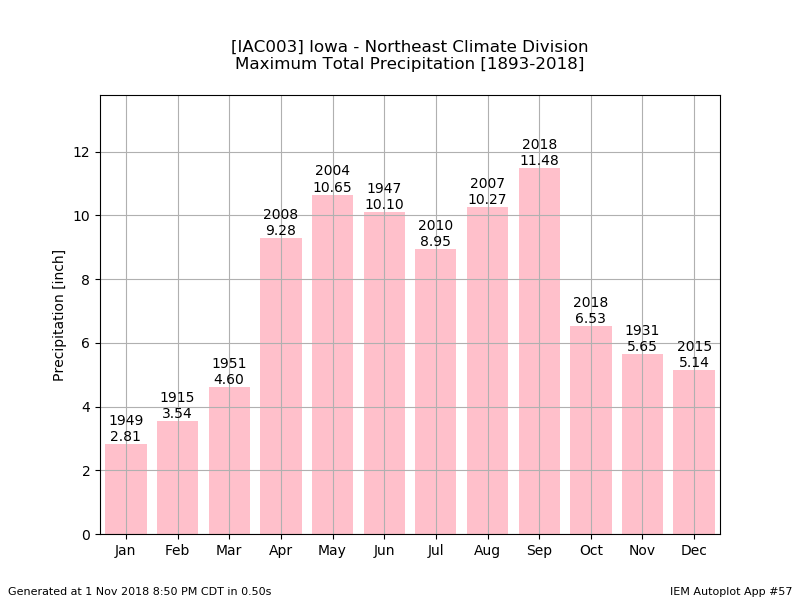 Two Months in a Row
02 Nov 2018 05:34 AM
Based on unofficial IEM calculations, the northeastern Iowa climate district had its second wettest month on record in a row. The featured chart depicts the highest monthly precipitation totals. Both September and now October rank number one for the area. Thankfully the last portion of October was mostly dry, which helped to allow crop harvest progress and prevent any further flooding. Sadly, this area of the state looks to again be the wettest portion of Iowa over the next week or so. Hopefully rainfall totals do not get out of hand, like they did for the previous months.
Voting: Good - 9 Bad - 2
Tags: 2018
Generate This Chart on Website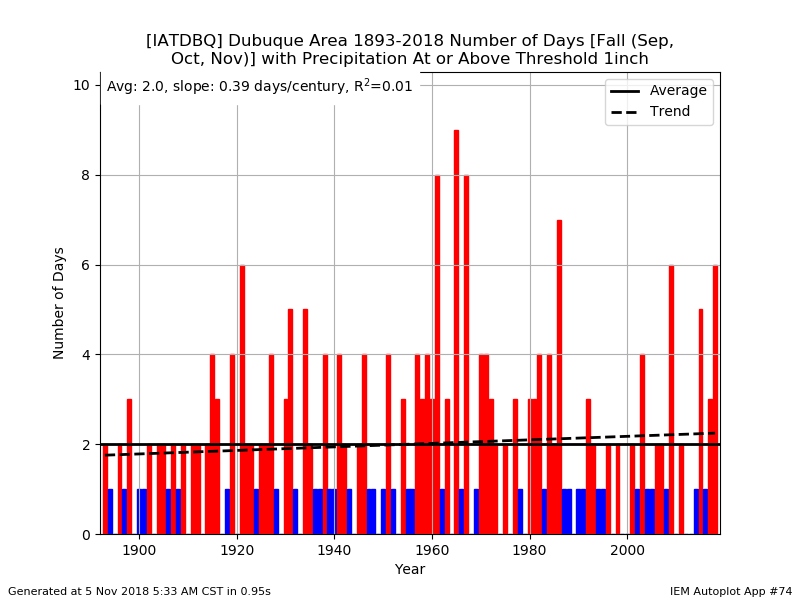 Fall Inch Precip Days
05 Nov 2018 05:35 AM
Many locations in Iowa, like Dubuque, have seen more than its fair share of heavy rainfall events this fall season. The featured chart displays the number of days with at least one inch of precipitation reported for the fall season encompassing September thru November. Dubuque reported an inch on Sunday bringing its season total to six days this season. The long term average is shown and at just two days. The heaviest rainfall this week is forecasted to stay to our south and east.
Voting: Good - 9 Bad - 0
Tags: fall
Generate This Chart on Website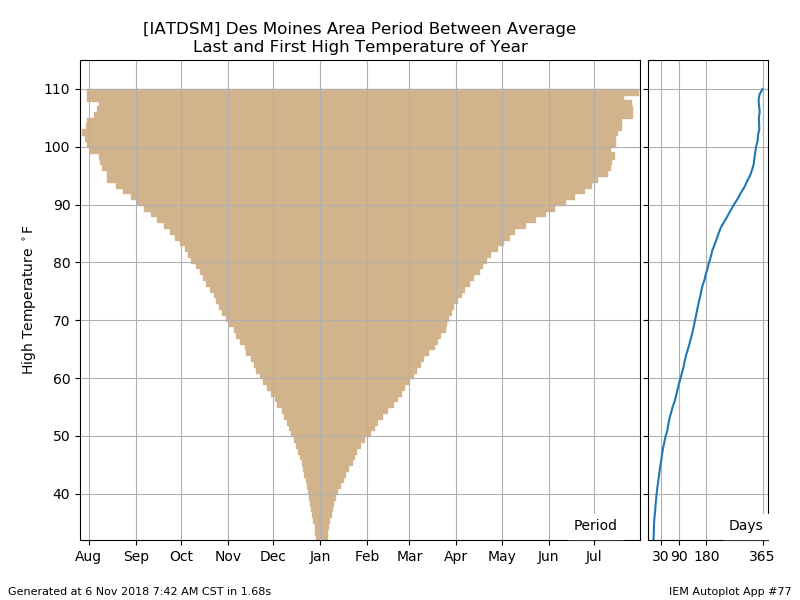 Period between High Temps
06 Nov 2018 07:46 AM
The coldest air of the season is being transported into the state and will stick around for a few days with highs in the 30s for most and even colder over northern Iowa. The featured chart looks at the average last fall and first spring days for a given high temperature. For this time of year, we are typically saying goodbye to the upper 60s only to expect to see them again during late March. Charts like these are sort of depressing to realize that the long and cold winter season is just getting started and this week will certainly feel like it.
Voting: Good - 6 Bad - 1
Generate This Chart on Website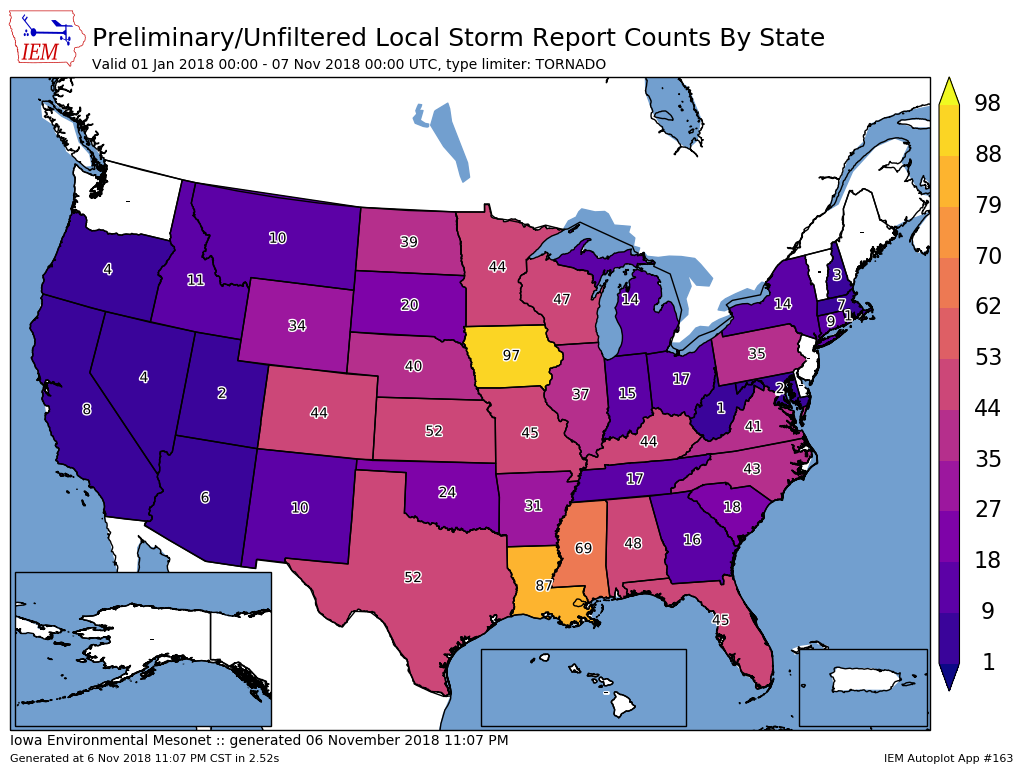 These are not official Tornado totals, but unfiltered local storm reports.
2018 Tornado Local Storm Reports
07 Nov 2018 05:38 AM
With all of the current election maps showing states in various colors, now is a good time to show one with Iowa in the lead. This map presents an unofficial totaling of unfiltered NWS Local Storm Reports of tornadoes by state.
The major caveat here is that these are not official totals of tornadoes.
The official tornado totals take a number of months to curate and it may turn out that Iowa has not seen the most tornadoes of any state so far this year. Putting that aside, Iowa has likely seen more tornadoes this year than classic tornado alley states of Kansas, Oklahoma, and Texas.
Voting: Good - 11 Bad - 0
Generate This Chart on Website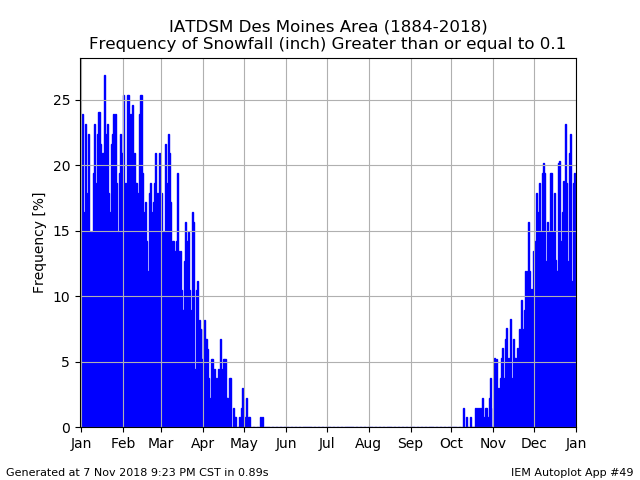 Daily Snowfall Frequencies
08 Nov 2018 05:34 AM
Air temperatures have turned rather cold for early November and snow is even in the forecast for today into Friday. The featured chart looks at the observed frequencies of measurable snowfall for Des Moines by day of the year. Having snow during early November is certainly not that exceptional, but not common either with values around one in twenty years (5%). There isn't too much variation during the highest frequency months of December, January, and February with values in the 1 in 4 to 5 years range.
Voting: Good - 6 Bad - 0
Tags: snow
Generate This Chart on Website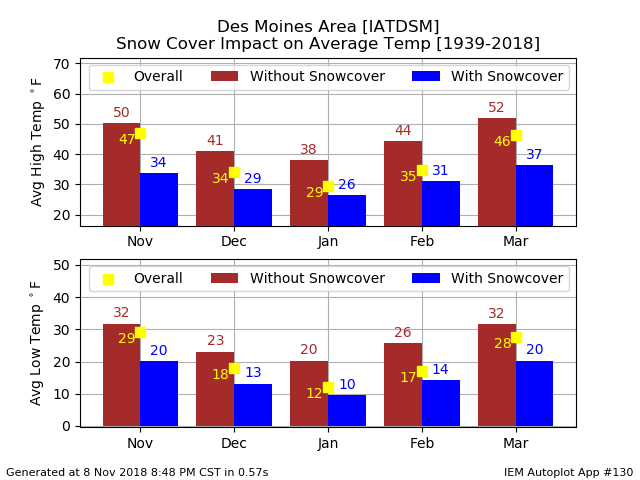 With and Without Snow Cover
09 Nov 2018 05:34 AM
The presence of snow cover makes a tremendous difference in observed temperatures. The featured chart looks at the average high and low temperature by month partitioned by the presence of snow cover. For November, the difference is a whopping sixteen degrees for high temperature. The snow that is falling today will likely not stick around long, but temperatures will still be quite cold for the coming days. Highs will struggle to reach above freezing even without much snow covering the ground.
Voting: Good - 7 Bad - 0
Tags: snowcover
Generate This Chart on Website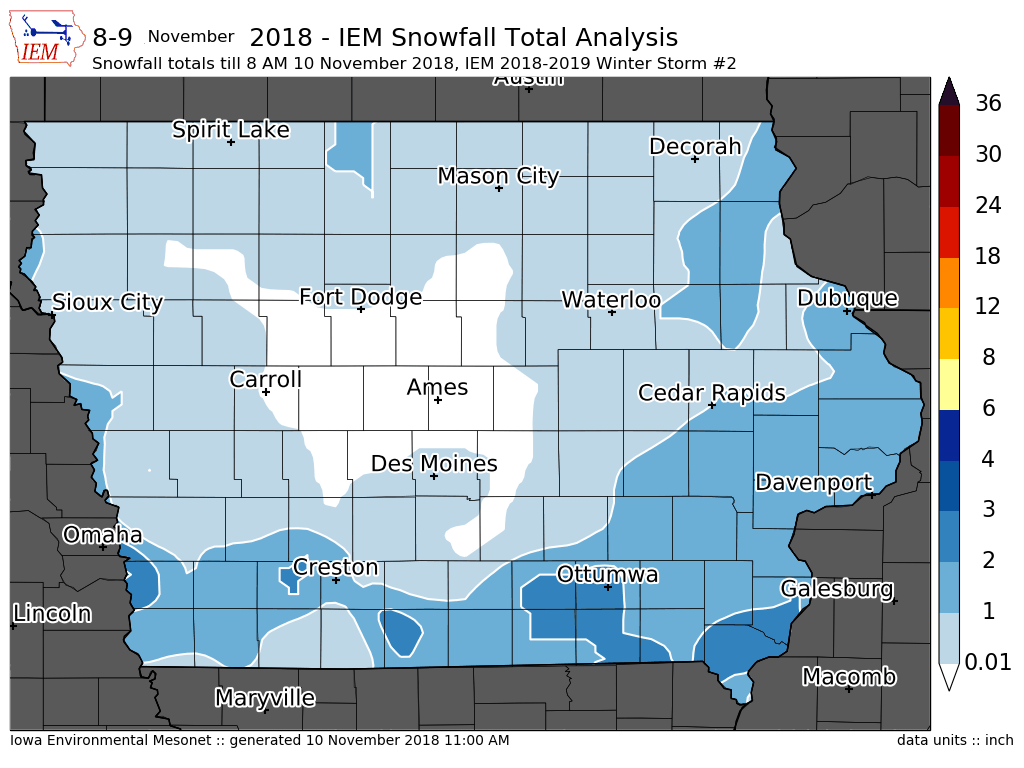 '18-'19 Winter Storm #2
10 Nov 2018 11:03 AM
While not much of a winter storm, the light snow was able to accumulate over some portions of the state and bring upwards of two inches to isolated locations. For the purposes of the IEM winter storm accounting, any events like these that get a few reports of at least two inches are counted in the season total. The big story with this event was the bitter cold that settled in afterwards leading to record low temperatures over some locations in the state. We'll have a few more cold days prior to a warm up later in the week.
Voting: Good - 9 Bad - 0
Tags: winter1819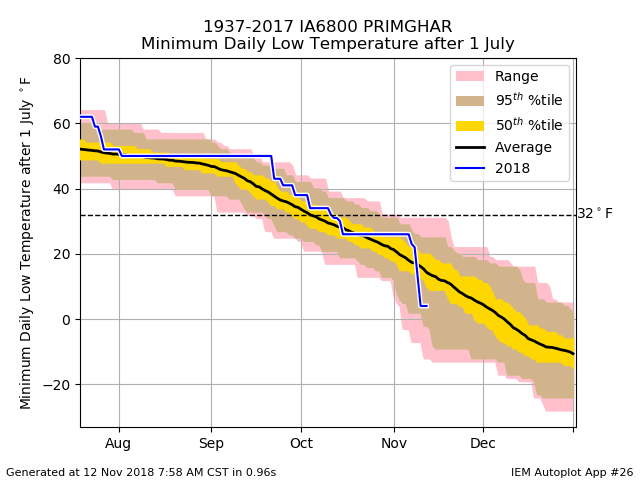 Down to Four Degrees
12 Nov 2018 08:04 AM
Very cold air arrived last week and has mostly stuck around through the weekend. The featured chart highlights the accumulated min low temperature for Primghar (far northwestern Iowa) since 1 July. After having very little cold weather up through most of September, the low temperature reached just four degrees this past weekend. The chart shows the long term average, selected percentiles and range over the period of record. Hitting four degrees this early in November is a bit out of the ordinary for the location, but temperatures has certainly been much colder by now over year's past.
Voting: Good - 2 Bad - 1
Generate This Chart on Website
November Ranges
13 Nov 2018 05:33 AM
The featured chart displays the maximum high, minimum low, and range between those two values for each November back to 1893 for Ames. The long term average is about 60 degrees and this year's range currently stands at 50. So one wonders if we are to expand that range with the days remaining this month, will it be by having a warmer high than 58 or a colder low than 8 degrees? The current forecast is not convincing either way, but there is optimism that the later part of November will be warm.
Voting: Good - 6 Bad - 2
Generate This Chart on Website
Developing El Nino
14 Nov 2018 05:34 AM
The featured chart depicts the combination El Nino 3.4 Index and monthly average temperature departures for Ames. The current forecast by NOAA indicates a 80% chance that an El Nino will form this winter and persist into the spring season. What does that mean for Iowa's upcoming season? Unfortunately, there is no simple relationship whereby you can take the El Nino index and derive the weather for Iowa. The featured chart shows that for the metric of average monthly temperature, it is a mixed bag when the index is not strongly in one direction or another. The most recent "Godzilla El Nino" from 2015 certainly was a driver for a number of consecutive months in a row with above average temperatures, but the current forecasted index is no were near those levels.
Voting: Good - 6 Bad - 1
Generate This Chart on Website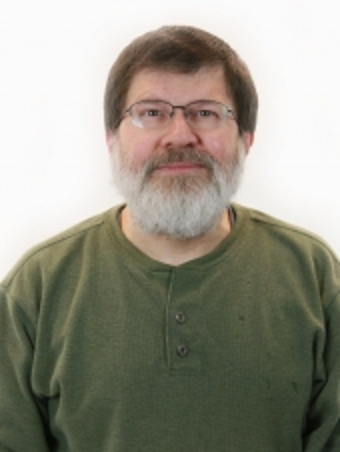 In Memoriam: Dr Ray Arritt
15 Nov 2018 05:34 AM
For over the past ten years, Dr Ray Arritt has administered the Iowa Environmental Mesonet project. I am sorry to share that he suffered a stroke earlier this week and will not survive. He was a wonderful friend, excellent scientist and strong supporter of this project. He was an avid reader of my "Daily Features" posted on this website and would often engage me with questions and ideas. So it seems only fitting to eulogize him with a feature. He did a tremendous amount of work to provide me funding and resources to keep the IEM project going these many years. His guidance will be greatly missed. May he rest in peace.
/s/ daryl herzmann
Voting: Good - 0 Bad - 0