Past IEM Features tagged: smoke
---
11 Jul 2015 05:48 AM
Visible satellite imagery on Friday morning captured swirls in the smoke plume from Canada. These swirls are always present in the atmosphere, but we often can not see them in the cloud formations. Much like how people use tracers in a wind tunnel to see how the air is flowing, the smoke plume was doing a similar thing in the atmosphere.
Voting:
Good: 25
Bad: 11
Abstain: 5
Tags: satellite smoke
---
30 Jun 2015 05:43 AM
The smoke from Canadian wild fires was very noticeable in Iowa on Monday and made for a red colored sun. The featured map is visible satellite imagery with the smoke plume highlighted coming south out of Canada and into Iowa. Our upper air flow pattern looks to maintain this transport, so we may be seeing more of the smoke.
Voting:
Good: 16
Bad: 6
Abstain: 3
Tags: smoke
---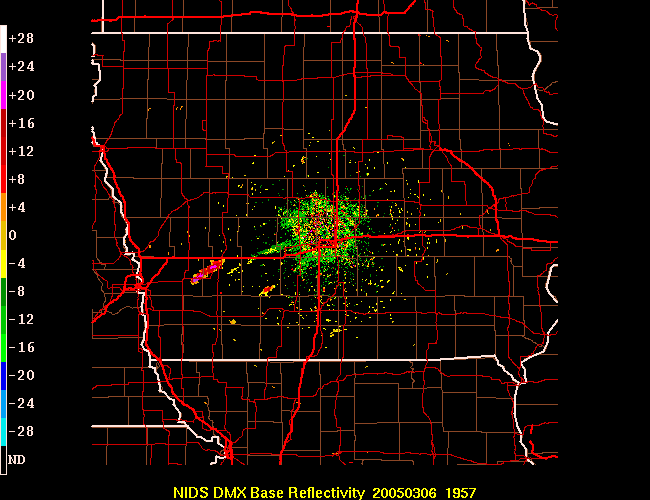 View larger image
Des Moines NEXRAD animation between 2 and 3 PM on 6 Mar 2005
07 Mar 2005 12:04 AM
After complaints of March being boring, Mother Nature is working overtime this week to make things interesting. Sunday afternoon was very windy with record high temperatures and then a round of thunderstorms rolled through bringing lightning, small hail, and gusty winds. The highlighted animation shows the smoke plune from a large grass fire in Pottawattamie County. The strong winds and deep mixed surface layer quickly moved this smoke upwards to a reported 15,000 feet. The weather this week looks to be a bumpy ride, so hold on tight!
Voting:
Good: 15
Bad: 6
Tags: smoke nexrad