Past Features
This page lists out the IEM Daily Features for a month at a time. Features have been posted on most days since February 2002. List all feature titles.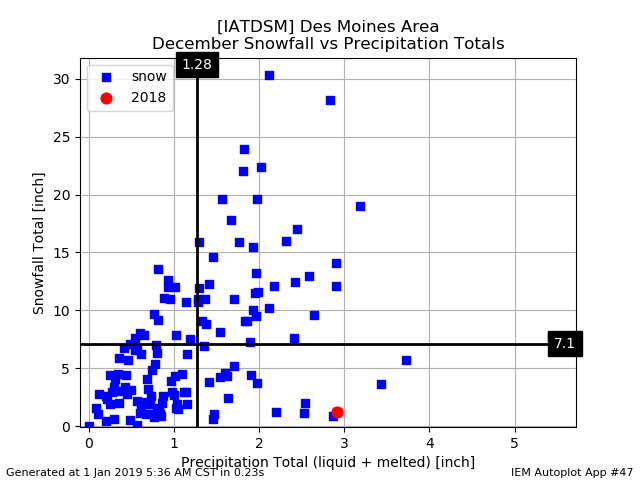 Dec Precip Mostly Rain
01 Jan 2019 05:41 AM
This past December was a wet month for much of Iowa. The featured chart presents the combination of reported snowfall and precipitation totals for each December for Des Moines. The 2018 value is highlighted and shows a somewhat infrequent combination with nearly all of the precipitation falling as rain. The other year that closely compares with 2018 was 1945.
Voting: Good - 5 Bad - 0
Generate This Chart on Website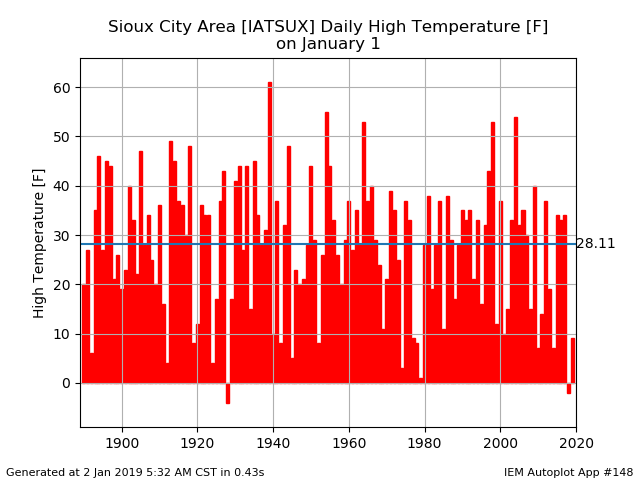 Warmer than Last 1 Jan
02 Jan 2019 05:33 AM
2019 started off cold for most of Iowa with the high temperature at Sioux City only reaching 9 degrees. The featured chart displays the high temperature each year for 1 January. Interestingly, the 9 degrees this year was warmer than last year when the high failed to even reach 0 degrees Fahrenheit! For those of you that want a nice spell of warmer temperatures, the current forecast has lots of hope for warmer temperatures to end this week and continue into the next.
Voting: Good - 9 Bad - 0
Generate This Chart on Website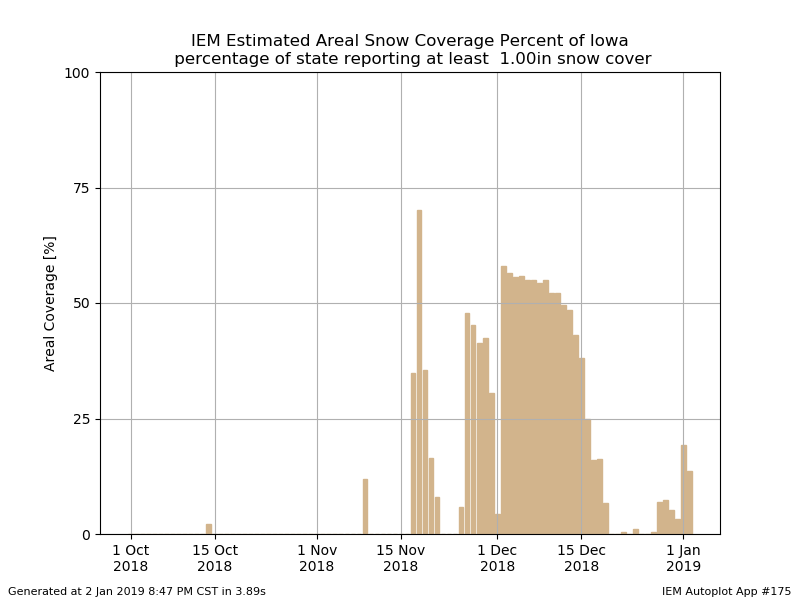 Limited Snow Cover
03 Jan 2019 05:33 AM
While snow producing storms have been numerous so far this season, the overall snow coverage in the state has been limited. The featured chart presents an IEM estimated analysis of the percentage of the state covered by at least one inch of snow. The current value is indicated at less than a quarter of the state and the near term forecast indicates that this snow is about to melt. Of course, there is still plenty of time for more snow to fall as the snowiest months in Iowa are typically yet to come.
Voting: Good - 7 Bad - 2
Generate This Chart on Website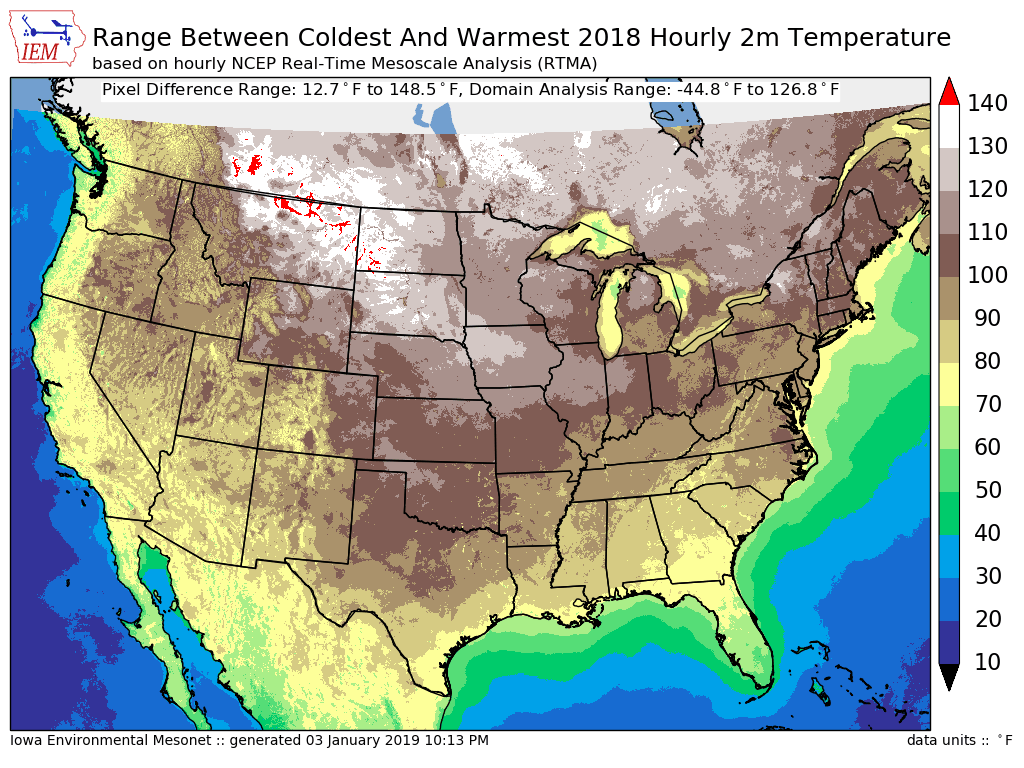 2018 Temperature Range
04 Jan 2019 05:34 AM
Based on a high resolution hourly temperature analysis from NOAA, the featured map depicts the range between the coldest and warmest value for all of 2018. Iowa is shown in the 110 to 130 degree range. Even larger values can be found to our north and west over the High Plains where elevation, the Rocky Mountains and other things conspire to allow for more extreme heat and cold. The map is rather clear that if you don't like variability, you should be living in the southern tip of Florida where the abundance of surrounding ocean moderates temperatures.
Voting: Good - 19 Bad - 4
Tags: 2018
January Days at 50+
07 Jan 2019 05:31 AM
The weather on Saturday was spectacular with highs well into the 50s and made for the third day this January with temperatures above 50 for Des Moines. The featured chart presents the number of January days each year with the high at least 50 degrees. Of course, a good number of years fail to reach this level at all during the month, so getting three days so far is a treat. The overall average is around two days, so we are off to an exceptional start for 2019. We may be able to eek out 50 degrees today before cooling off for the rest of the week.
Voting: Good - 8 Bad - 0
Generate This Chart on Website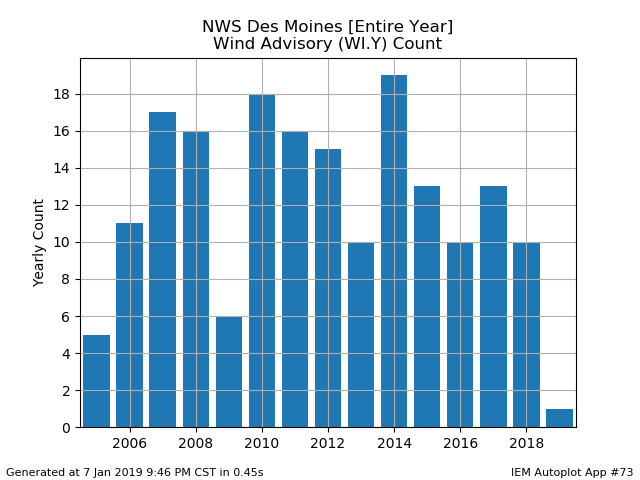 Wind Advisory Counts
08 Jan 2019 05:15 AM
A Wind Advisory is in effect for nearly all of Iowa today. This alert is issued when sustained winds are expected to be at least 30 MPH with gusts upwards of 45 MPH. The featured chart displays the number of Wind Advisories issued each year by NWS Des Moines. There are about ten of these issued per year and they are the most common during the non-summer months.
Voting: Good - 11 Bad - 0
Generate This Chart on Website
Plenty of Wind on Tuesday
09 Jan 2019 05:34 AM
There was plenty of wind on Tuesday with gusts reaching 50 MPH over parts of Iowa. This was by far the windiest day so far this month as illustrated by the featured chart showing the daily averaged wind speeds and direction for Ames. The little arrow on the plot indicates the average wind direction for each day. It will be windy today as well, but not as bad as Tuesday.
Voting: Good - 14 Bad - 0
Generate This Chart on Website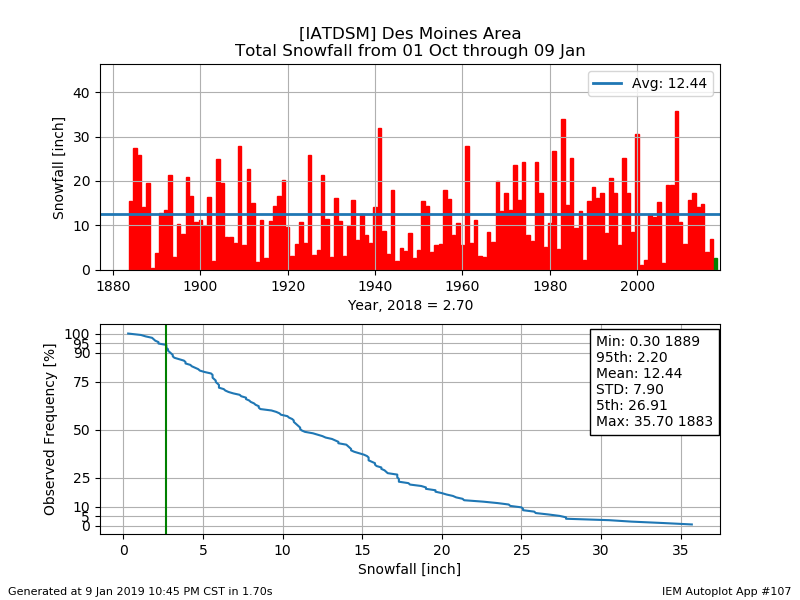 Meager Snowfall Total
10 Jan 2019 05:33 AM
Central Iowa continues to have missed out on any significant snowfalls for the season. The featured chart displays the season to date accumulated snowfall for Des Moines. The total this year is well below the long term average and at about the 95th percentile for lowest total. The next chance of snowfall for Iowa looks to impact mostly the southeastern portion of the state, so central Iowa will appear to miss out again.
Voting: Good - 9 Bad - 0
Generate This Chart on Website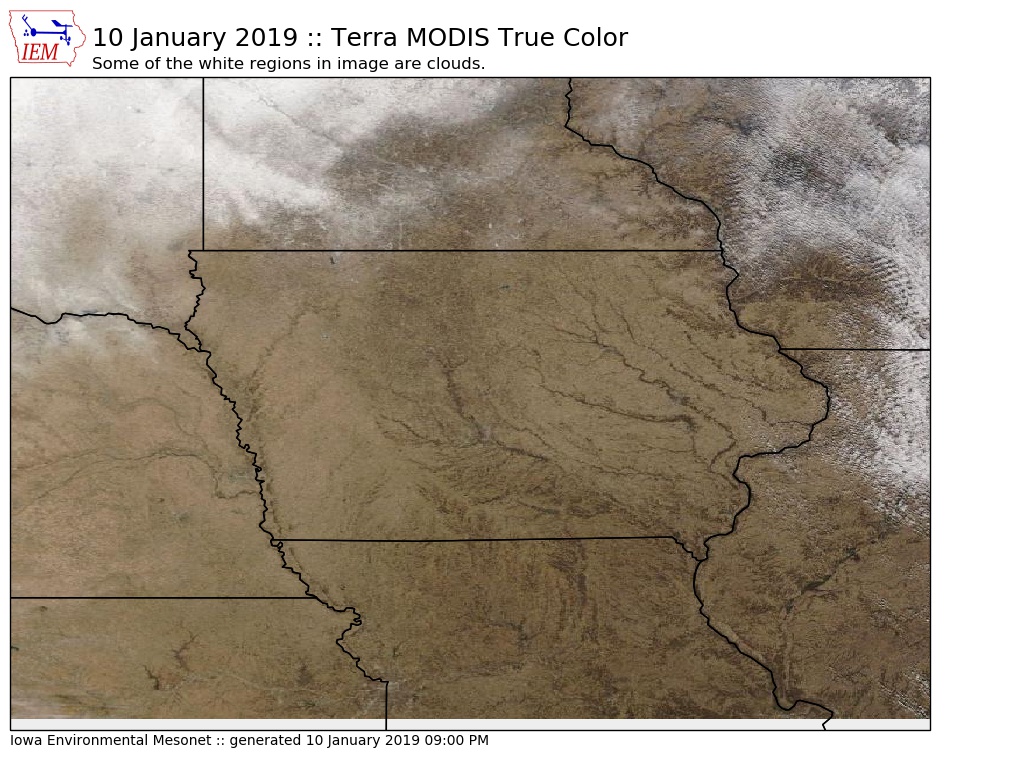 So Much Brown
11 Jan 2019 05:34 AM
Days with mostly clear skies, like on Thursday, make for a good opportunity to check in on the MODIS "true color" imagery. The featured map is from the Terra satellite. Some of the white shown in the imagery is clouds, but Iowa is indicated to be mostly snow free. Perhaps some limited areas over northwestern Iowa near the Minnesota border have some snow left, but the highest NWS COOP reports in the area are just a trace of snow. There is some snow on the way for the weekend for southern portions of the state.
Voting: Good - 18 Bad - 2
Tags: modis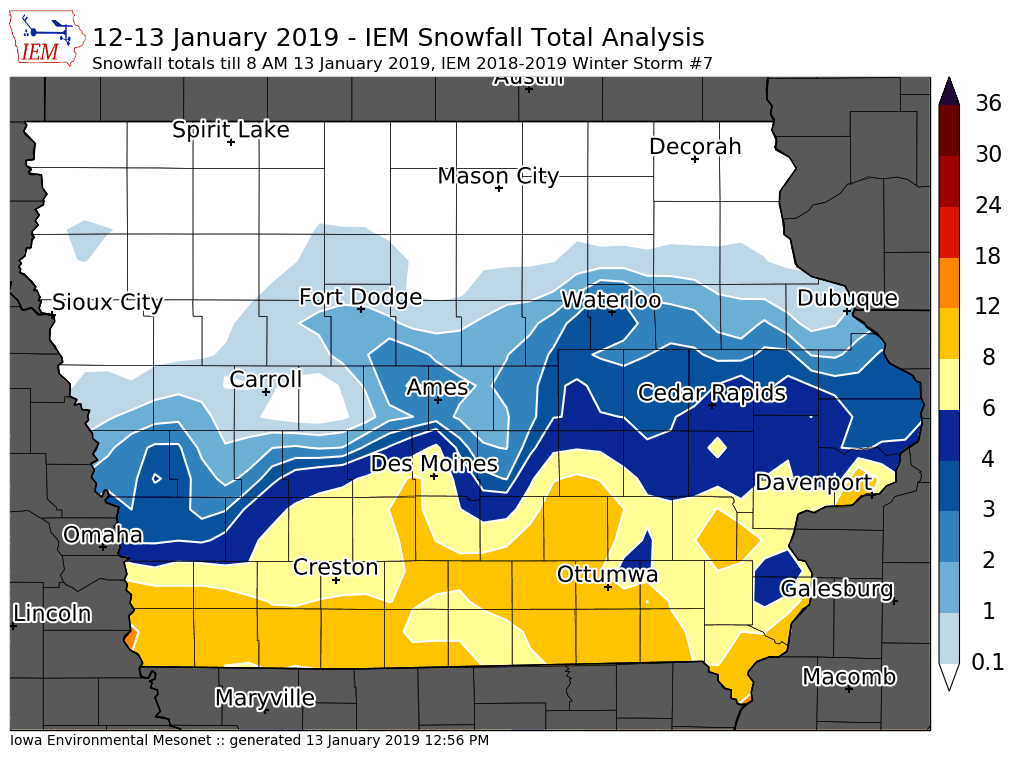 '18-'19 Winter Storm #7
13 Jan 2019 01:50 PM
It had been a while since the last significant snowfall producing storm in the state. Our most recent storm dumped generally more than four inches south of Interstate 80 and some isolated amounts approaching a foot. The featured map depicts an analysis of available snowfall reports. Perhaps this snow will stick around for the week with only some modest melting anticipated.
Voting: Good - 15 Bad - 3
Tags: winter1819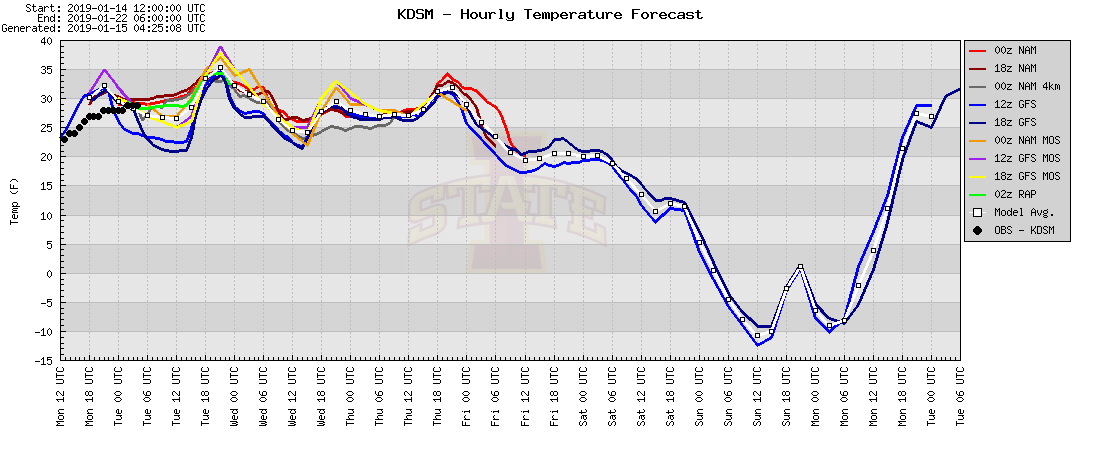 Cold Weekend Forecast
15 Jan 2019 05:32 AM
There is a bit of excitement among the weather community that very cold weather will show up for the upcoming weekend along with significant amounts of snow beforehand. To make things even more interesting, the NFL AFC Football Championship game is in Kansas City Sunday evening amidst all this snow and cold. The featured chart is taken from the
BUFKIT Warehouse
showing various model forecast time series of air temperature for Des Moines (KDSM). The chart indicates highs on Sunday barely making it to 0 degrees Fahrenheit!
Voting: Good - 15 Bad - 0
Tags: bufkit
Generate This Chart on Website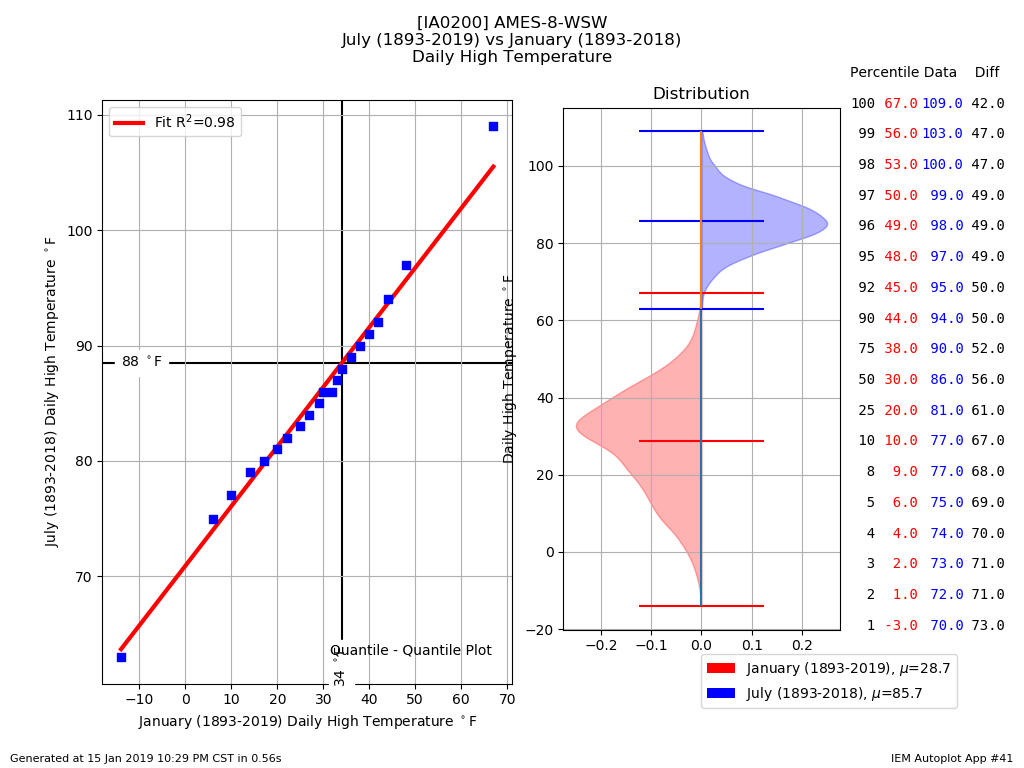 Comparing January 34 to July
16 Jan 2019 05:34 AM
The high temperature for Ames on Tuesday was just 34 degrees. That value is above average for the date, but sometimes such temperatures are hard to put into context. One way to provide such context is to compare temperature quantiles with another month, in this case July. The left hand chart is a q-q chart which plots equal percentiles for the month. Having the high of 34 in January compares with 88 degrees in July. So 88 degrees would be considered by most a warm July day, so yesterday was a warm January day too then!
Voting: Good - 11 Bad - 0
Generate This Chart on Website
Seven Straight below Freezing
17 Jan 2019 06:06 AM
Temperatures above freezing may be difficult to come by for the rest of this January as the well advertised cold weather arrives for the weekend and looks to persist. We will likely see at least seven straight days with the high temperature below freezing. The frequency of having this situation is shown by the featured chart. The chance of a given day having the previous seven days below freezing is about 1 in 10. While not shown and for comparison, the frequency for a colder location like Fargo, ND is about 50%.
Voting: Good - 7 Bad - 0
Generate This Chart on Website