Past IEM Features tagged: lsr
---
28 Feb 2017 05:39 AM
The National Weather Service collects weather reports from their partners and the general public. These reports are then relayed to the world in the form of a text product named Local Storm Reports (LSR)s. The IEM processes and archives these reports to then make them available for download. The featured map displays the number of LSRs by NWS Forecast Office so far this year. Only reports of hail, tornadoes, and severe thunderstorm wind gusts and damage are shown. Significant amounts of severe weather are anticipated today and tomorrow, so areas in the central US that haven't seen much activity yet this year are expected to with this event.
Voting:
Good: 6
Bad: 1
Tags: nws lsr
---
22 Apr 2016 05:34 AM
The National Weather Service collects reports of weather from the public and disseminates these reports in the form of 'Local Storm Reports' (LSRs). These LSRs denote a generalized grouping of where the report came from (source). The featured chart looks at the yearly rank of the source code used in LSR reports by NWS Des Moines. The ranking is simply a measure of the number of reports received and then disseminated by that source over the year. The LSR program has changed over the years with some source groups being converted into other headings. The general PUBLIC remains a major and important source of reports for the NWS. So keep letting them know when you witness significant weather.
Voting:
Good: 13
Bad: 4
Abstain: 3
Tags: nws lsr
---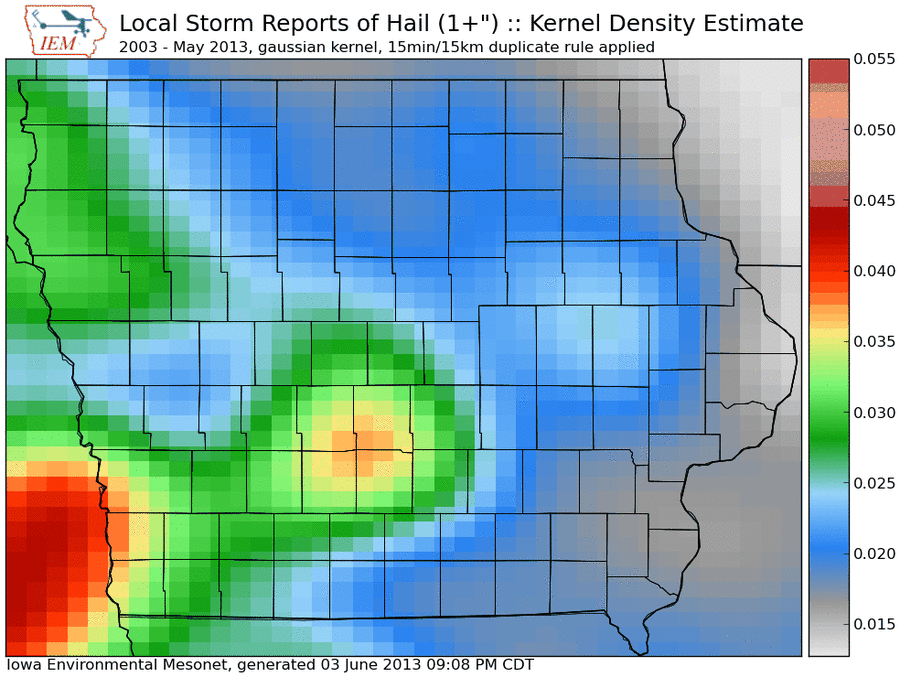 View larger image
Aux plots:
points included
midwest analysis
04 Jun 2013 05:48 AM
The featured map presents an analysis of National Weather Service Local Storm Reports (LSRs) of one inch plus diameter hail since 2003. The analysis is a kernel density estimate using a Gaussian kernel and attempts to show the spatial distribution of hail reports. Hail is reported and collected by humans, so it is natural to see urban centers in the state show local maxima for reports. The general pattern is for fewer reports as one travels from southwest to northeastern Iowa. The geography of the Midwest drives the meteorology which favors more instability over the plains. This instability feeds thunderstorm development in the late afternoon hours that tends to produce hail. These thunderstorms then truck it east, congeal and loose their ability to produce hail.
Voting:
Good: 51
Bad: 11
Tags: hail lsr