Past IEM Features tagged: lightning
---
19 Apr 2012 05:57 AM
Now that we are in a stormy springtime pattern, most people know that night time is best time for thunder storms in Iowa. Of course, this is also the time when most of us are trying to sleep! The featured chart presents the climatology of thunderstorm reports from the Des Moines Airport partitioned by hour of the day and week of the year. The highest frequencies are clearly during the night time hours in the spring and summer seasons. Prior to about mid April, there does not appear to be much of a night time signal with all hours of the day having about the same frequencies.
Voting:
Good: 29
Bad: 4
Tags: lightning climate
---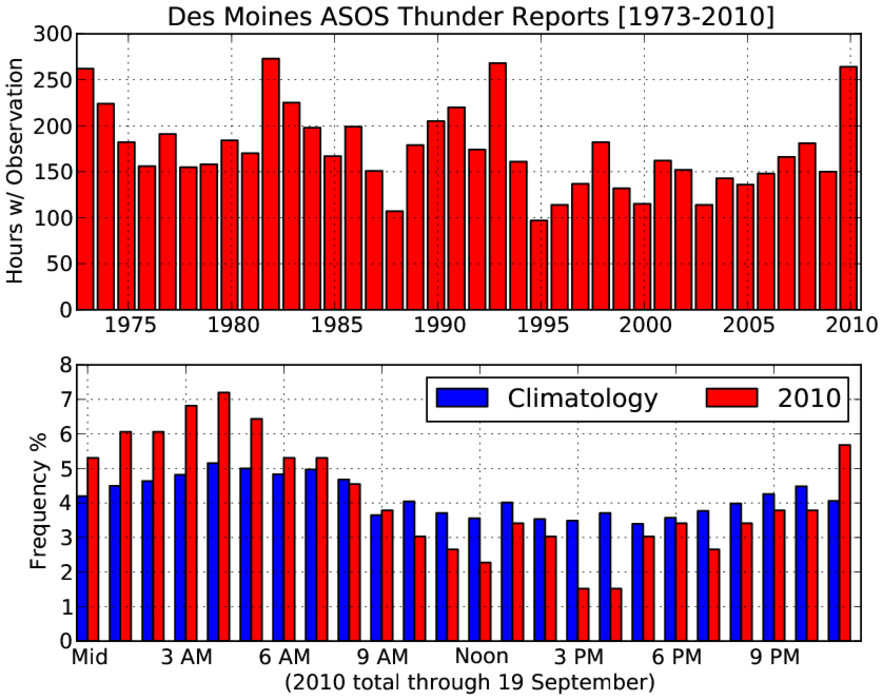 20 Sep 2010 05:55 AM
Numerous rounds of thunderstorms dumped hail and heavy rainfall on primarily southern Iowa this past weekend. The featured chart presents a summary of the number of automated weather station reports of thunderstorms from the Des Moines airport sensor. The 2010 total surpasses each of the previous years since 1993. The bottom sub chart shows the hourly normalized frequency. This year has seen relatively more thunderstorms during the night time hours than previous years. This has made for a number of nights of difficult sleeping weather. More thunderstorms are in the forecast for this week.
Voting:
Good: 17
Bad: 6
Tags: climate lightning