Past IEM Features tagged: soilmoisture
---
22 Jul 2016 05:34 AM
The July rains came just in time for much of central Iowa after a dry June. The featured chart looks at the amount of soil water estimated between the 6 and 30 inch depths by the ISU Soil Moisture station at the ISU Ag Farm west of Ames. The top panel expresses the depth of water in this layer and the bottom shows the day to day change in depth. A few weeks back this plot was featured to show the daily draw down that was occurring without any replenishment. Today's featured chart shows that recharge has happened with much of the daily rainfall (shown by the blue text) infiltrating to this layer.
Voting:
Good: 13
Bad: 0
Tags: soilmoisture
---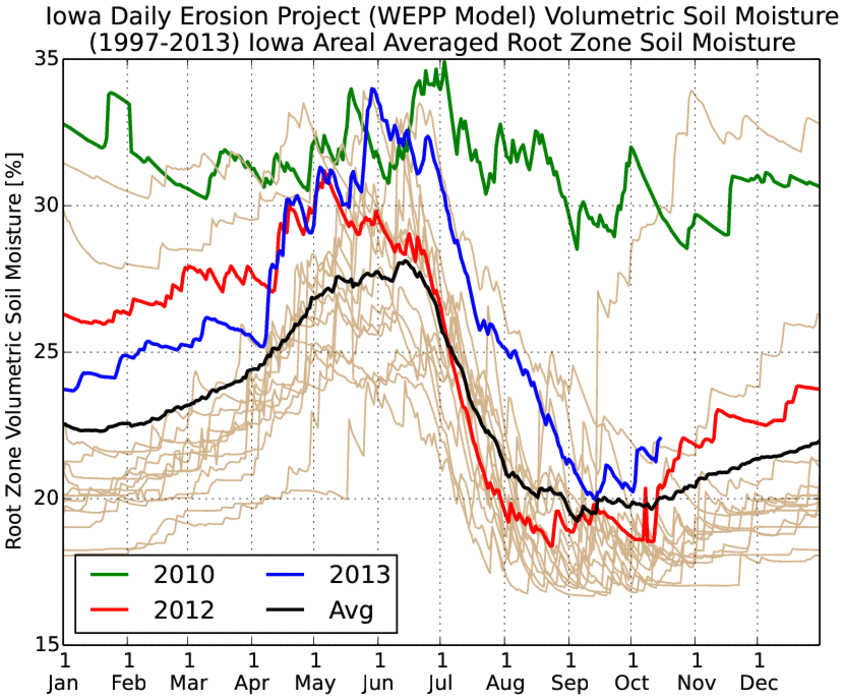 16 Oct 2013 05:42 AM
October 1 is the start of the water year. Since our growing season ends roughly around this time, any precipitation that falls afterwards will go toward recharging soil moisture for the next growing season. The featured chart displays the yearly cycle of root zone soil moisture as estimated by the Iowa Daily Erosion Project. The black line represents the simple average of all the years plotted. Moisture levels start to increase this time of year showing the recharge of soil moisture taking place as there is no longer a crop depleting it. The most substantial recharge takes place during the spring time as rainfall events are more intense and the soil is not frozen.
Voting:
Good: 70
Bad: 7
Tags: idep soilmoisture
---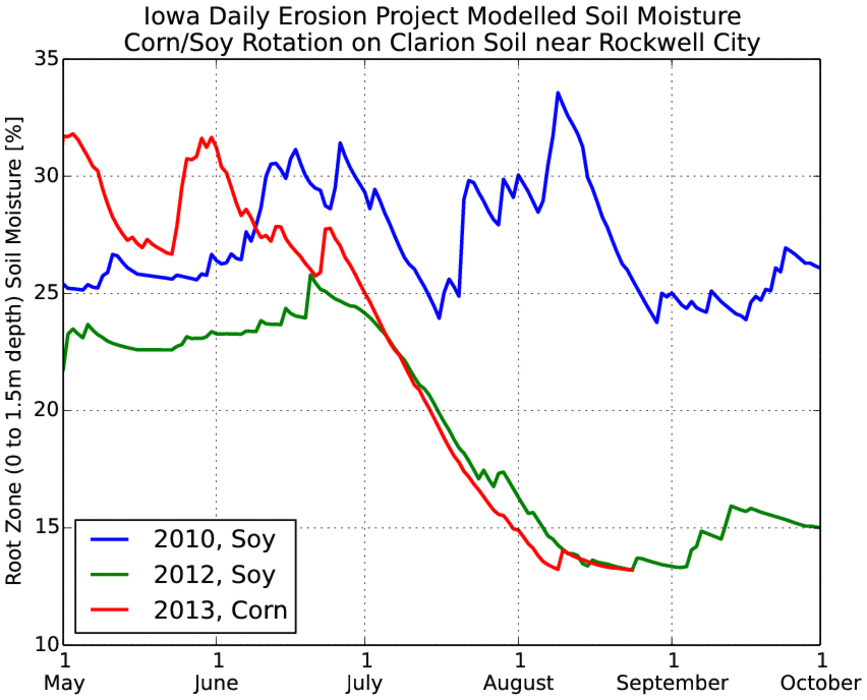 26 Aug 2013 05:29 AM
The status of this year's corn and soybean crop is about to get very interesting. The featured chart contains model estimates of soil moisture within the top 1.5 meters of soil for a location near Rockwell City. The cool weather of the past few weeks and the lone rain shower earlier in August have bought some time for crops in this area, but the available soil moisture is about gone and the hottest weather of the year has arrived. Plants are not able to access all soil moisture found within their root's reach, so while the chart does not show zero for soil moisture it is practically that for the plant. The Rockwell City area has been one of the driest locations since the first of July with a total of only a half inch or so. Rainfall shows up in the chart as brief upticks in soil moisture. The wet year of 2010 is shown for comparison.
Voting:
Good: 70
Bad: 8
Tags: soilmoisture