Past IEM Features tagged: radar
---
14 May 2015 07:53 AM
The IEM generates a nationwide composite of NWS RADAR information going back to 1995. The featured image presents that composite for Iowa for each 7 AM on 14 May going back to 1995. The widespread rain this morning is only matched in RADAR presentation by the same time in 1996. You can generate this image online and for an area/time of your choice.
Voting:
Good: 11
Bad: 12
Abstain: 2
Tags: radar
---
13 Jul 2011 08:07 AM
The cleanup continues from the high wind event on Monday morning. The featured title typically refers to having the radar beam hitting objects on the ground, but in this case the actual radar hit the ground. WHO-TV (of Des Moines) had their radar blown off its tower by the storms Monday morning. The photo is of their RADAR radar dish on the ground. Earlier this year, WAFF-TV's (of Huntsville, AL) radar was destroyed by storms there.
Voting:
Good: 13
Bad: 1
Tags: radar
---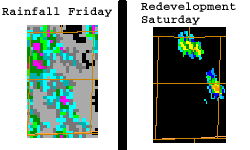 View larger image
Rainfall totals on Friday and then initial thunderstorms on Saturday 14 Jun 2003.
16 Jun 2003 08:43 AM
"Popcorn" thunderstorms are a common occurance in the summer. Many times storms will develop over areas that received rainfall on the previous day. The graphic (two counties shown, Wapello and Davis) illustrates this concept. Rainfall on Friday aided redevelopment the next day.
Tags: radar