Past IEM Features tagged: modis
---
25 Oct 2016 05:33 AM
It does not take a fancy satellite to tell us that our landscape is mostly brown these days, but we might as well take a look since we have the fancy Terra and Aqua MODIS satellites. The featured image compares true color imagery from Sunday with an image two months earlier in late August. It is remarkable to note the change in color over this period. The wet and humid summer created very lush conditions over Iowa and the August image indicates that dark green color.
Voting:
Good: 13
Bad: 0
Tags: modis
---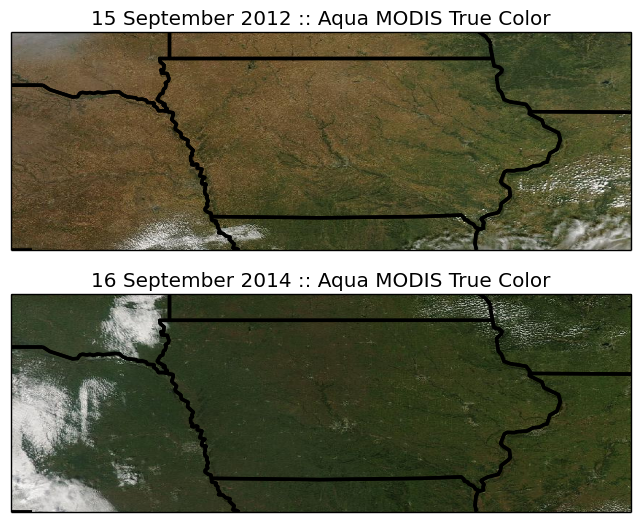 17 Sep 2014 05:46 AM
Clear skies on Tuesday provided the Aqua MODIS satellite an unobstructed view of Iowa's landscape. The featured chart compares the MODIS true color product for yesterday with a close date from 2012. The weather for 2012 was nothing like what has happened this year with 2012 being hot and dry while this year has been cool and wet. The agricultural crops still need more heat units to reach maturity this year and so that explains the obvious difference in greenness.
Voting:
Good: 21
Bad: 7
Abstain: 5
Tags: modis satellite
---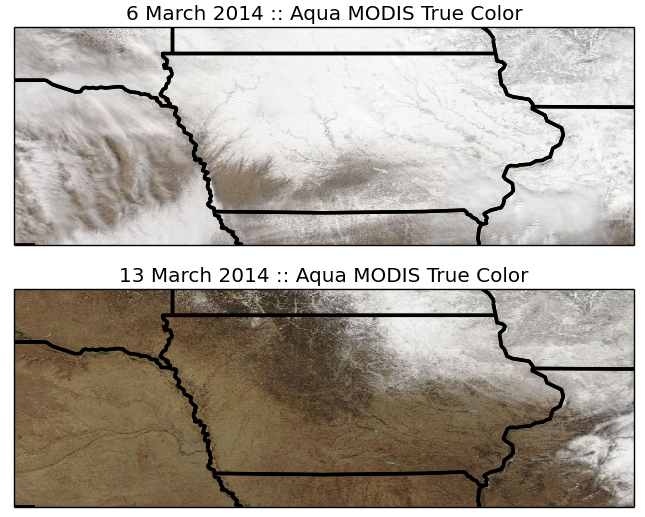 14 Mar 2014 05:39 AM
It was only a week ago that we were climbing out of the deep freeze after highs on the second near zero! The weather this week has been much warmer with very seasonable highs on Thursday. The featured image compares the Aqua MODIS true color image from the past two Thursdays. The snow cover is now confined to northeastern Iowa after covering much of the state just a week ago. Unfortunately, there are chances of snow in the forecast and so we are not done with winter just yet!
Voting:
Good: 43
Bad: 15
Abstain: 9
Tags: modis