Past IEM Features tagged: may07
---
29 May 2007 07:17 AM
The featured chart is of daily rainfall observations at the Ames Airport for this May. While rainfall for the month is above normal, it was a 2 week period of dry weather which allowed a good portion of cropland to be planted. Heavy rainfall is in the forecast for this shortened work week.
Voting:
Good: 27
Bad: 3
Tags: may07
---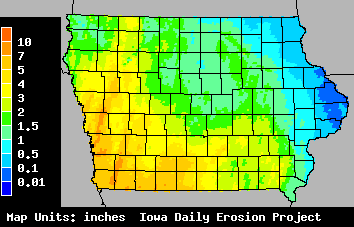 View larger image
1-7 May 2006 rainfall estimate
08 May 2007 06:21 AM
A strong high pressure system to our east slowed the eastward progression of the storm systems that brought very heavy rain over Western Iowa. The featured image is an estimate of rainfall to date for May showing over 7 inches in places like Shenandoah and Council Bluffs, while Dubuque (in Eastern Iowa) has only seen a few drops.
Voting:
Good: 18
Bad: 5
Tags: may07
---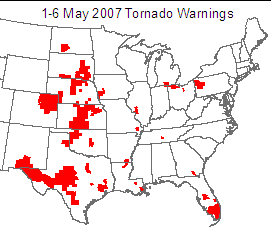 View larger image
Tornado warnings for first 6 days of May 2007
07 May 2007 08:07 AM
The featured image is a plot of counties warned by tornado warmings for this May up until today. According to my accounting, there were 299 warmings issued during those 6 days with well over 150 reports of tornadoes. The largest of these tornadoes destroyed
Greensburg, Kansas
and was surveyed to have the highest strength rating possible (EF5). Unfortunately, Iowa saw a handful of tornadoes as well.
Voting:
Good: 17
Bad: 5
Tags: may07