Past IEM Features tagged: may06
---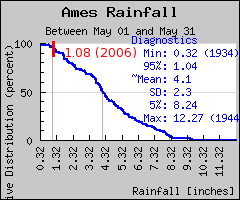 View larger image
1-31 May precip for Ames
05 Jun 2006 06:30 AM
The featured image shows precip probabilities for May at Ames. The total of 1.08 inches was around a 5% chance (1 in 20 years) and about 3 inches below normal. It is now June tho and today brings a very good chance of rain, so hopefully we can make up some of these mild deficits.
Voting:
Good: 20
Bad: 20
Tags: may06
---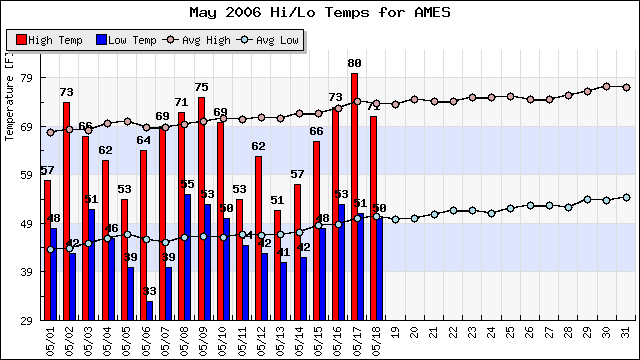 View larger image
May plot for Ames
19 May 2006 06:59 AM
You may wish to click the image to get a better view of the hi/lo temperatures so far this month compared with climatology. You can see the cooler than normal stretches of weather in early and mid May. The forecast for the next 7 days looks to be above normal with chances of rain.
Voting:
Good: 23
Bad: 7
Tags: may06