Past IEM Features tagged: jun11
---
30 Jun 2011 05:52 AM
The past few days have seen a respite from the summer like dew points near 70, but that will change today with very warm and humid air set to arrive with high temperatures well into the 90s. The featured chart presents the dew point values reported by the Ames Airport sensor since the first of the month. We have not had many extended periods above 70 degrees and a number of days below 60. The field crops have yet to get to their intensive transpiration periods yet, which is a big source of humidity in the summertime in Iowa.
Voting:
Good: 16
Bad: 2
Tags: jun11
---
29 Jun 2011 05:51 AM
Yesterday saw no rainfall in the state and made for only the fifth completely dry day this month based on IEM estimates shown in the featured chart. Mostly dry weather is expected to continue this week with very muggy air set to return along with high temperatures in the 90s. Summer will be back in full force!
Voting:
Good: 13
Bad: 4
Tags: jun11
---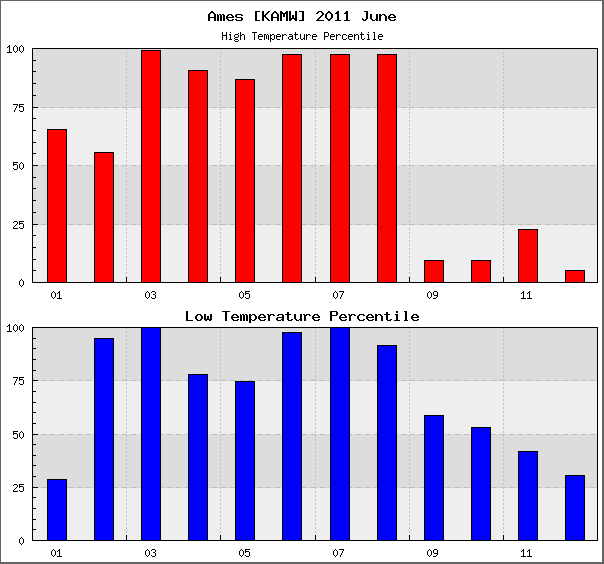 13 Jun 2011 05:50 AM
After one of the warmest stretches in early June on record, high temperatures have been struggling at near record minimums as shown by the featured chart of daily percentile values for high and low temperature. Average highs are in the low 80s for this time of year and we should get back to those levels by this coming weekend.
Voting:
Good: 16
Bad: 8
Tags: jun11