Past IEM Features tagged: feb11
---
27 Feb 2011 07:34 PM
The month of February is ending on an eventful note with a powerful storm system to our south bringing another taste of winter to southern Iowa with freezing rain, sleet and eventually snow forecast. Temperatures have seen a remarkable swing from very cold to a wonderfully warm week and back to cold weather to end the month. The featured chart presents the daily high temperature departure from average for Ames. March looks to start out like a lamb with warmer weather expected.
Voting:
Good: 18
Bad: 1
Tags: feb11
---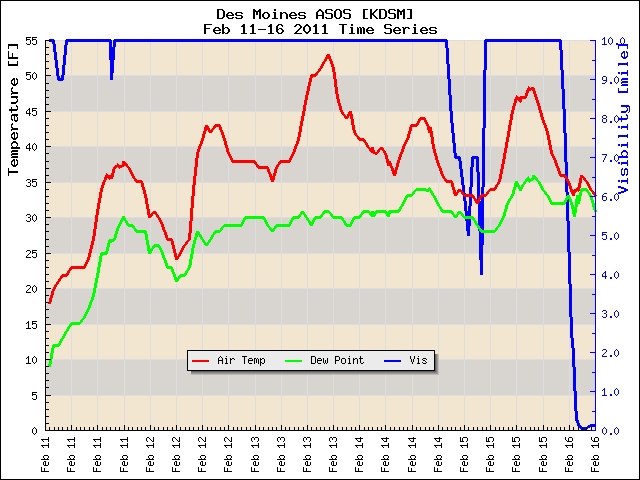 16 Feb 2011 07:10 AM
Our recent stretch of warm weather and melting snow has remarkably occurred without much fog. That is until this morning. The featured chart shows the combination of air temperature, dew point, and visibility since our warm-up began last Friday. Even warmer air is set to arrive on Thursday with highs expected in the 60s!
Voting:
Good: 19
Bad: 6
Tags: feb11