Past IEM Features tagged: apr07
---
26 Apr 2007 07:14 AM
The rainfall over the past three days has put us well above the climatological mean for April, in fact we are doubling it! The featured image is of daily rainfall accumulations for April 2007 and how the accumulated value departed from the climatology. The good news is that the forecast looks dry and very warm for this weekend, which is definetely needed. The next chance of showers appears to hold off until mid next week.
Voting:
Good: 35
Bad: 13
Tags: apr07
---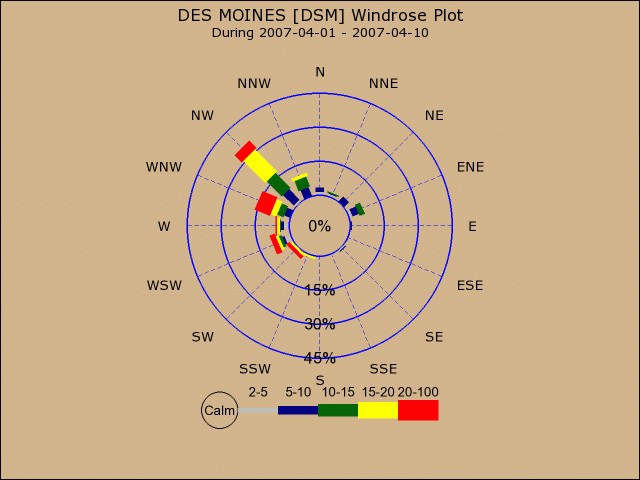 View larger image
Generate This Chart on Website
Des Moines Airport 1-10 April 2007
10 Apr 2007 07:20 AM
The featured image is a wind rose for the Des Moines Airport this month. It is fairly obvious that northwest flow has dominated and is a big reason why temperatures have been below normal. The first in a series of storms will help break up this persistent flow pattern, but warmer temperatures will only be brief. A considerable amount of snowfall is even expected in Northern Iowa with these next storms!
Voting:
Good: 33
Bad: 5
Tags: apr07