Past IEM Features tagged: 50
---
03 Oct 2014 05:39 AM
A brisk taste of fall has arrived in Iowa for Friday with high temperatures struggling to reach 50 degrees in some locations. The featured chart looks at the last spring date and first fall date that the high temperature was sub 50 degrees for Ames. If Ames stays below 50 today, it would be a few weeks earlier than average but the calendar is now October so let it be fall! The forecast has warmer temperatures next week and pleasant conditions. We could use some dry weather to help the fall harvest to progress.
Voting:
Good: 28
Bad: 24
Abstain: 17
Tags: 50
---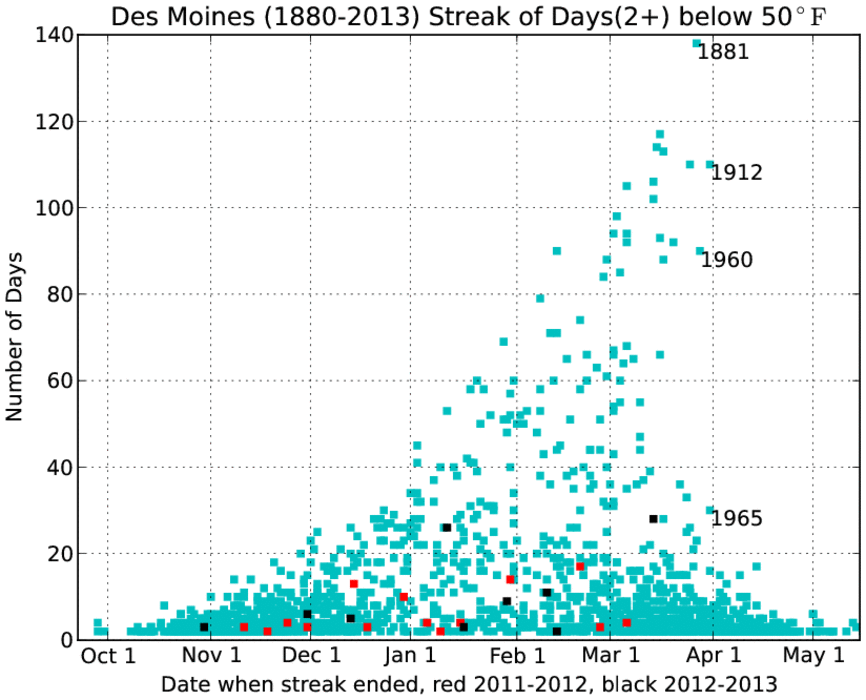 15 Mar 2013 05:37 AM
Warm air finally returned to the state on Thursday with the high temperature exceeding 50 degrees in Des Moines for the first time since 13 February. The featured chart displays the streak of days with a high temperature below 50 degrees and the date on which the streak ended. The black dots are streaks that happened this winter season and the red dots are for last winter. April 1 appears to be a boundary that long term streaks are unable to cross. The reason is that eventually increasing solar angle and warm air advection from south will destroy any snowpack that exists in March and help to push temperatures into the 50s. Another relatively warm day is in store today before colder weather returns.
Voting:
Good: 39
Bad: 8
Tags: 50