Past IEM Features tagged: 2019
---
04 Feb 2019 05:37 AM
After the brutal cold of last week, the weather this weekend was almost from a dream. Much of Iowa was able to reach the 50s on Sunday which obliterated most of the accumulated snow cover. The featured map displays the difference between the coldest wind chill value and the highest air temperature over the past few days based on a high resolution grid analysis from the NWS. Values topping 100 degrees are indicated in Iowa with an isolated area shown above 105 degrees! The trip to a 100 degree warm-up started with with wind chills well below negative 50 last week and ended on Sunday with highs around positive 50. The temperature whiplash continues today with falling temperatures on Monday and cold wind chills.
Voting:
Good: 20
Bad: 0
Tags: 2019
---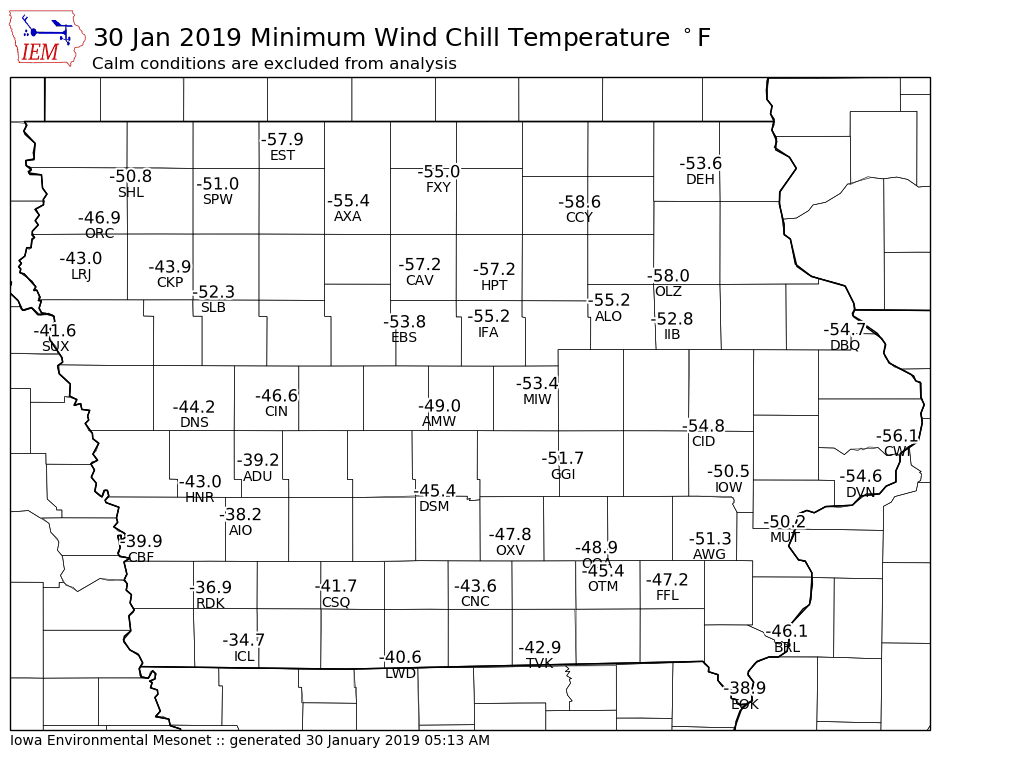 View larger image
Generate This Chart on Website
Updated map shows Charles City now the coldest at -59.
30 Jan 2019 06:17 AM
The ongoing extreme cold over Iowa has much of the state shutdown for this Wednesday. The forecast of generational cold wind chills came to fruition. The featured map displays the lowest wind chill temperature for today based on hourly observations from the airport weather stations in the state. The lowest shown is -58 for Estherville, which is coldest value ever reported from the site with data back to 1987. At this point, it appears we will not break the all-time record coldest wind chill in Iowa of -64 set back on Christmas Eve 1983 at Waterloo.
Voting:
Good: 16
Bad: 0
Tags: windchill 2019
---
29 Jan 2019 05:33 AM
It is remarkable to see all three state of Iowa universities closing this evening until Thursday noon due to dangerous wind chills. The featured chart depicts the forecast combination of air temperature, wind chill and wind speed for Ames. This chart bottoms out the wind chill temperature near negative 50 degrees and shows a high temperature of just -10 on Wednesday! Amazingly after this stretch of cold, much warmer weather is expected with the air temperature around 90 degrees warmer than the minimum wind chill plotted on this chart (-50 to 40).
Voting:
Good: 17
Bad: 1
Tags: windchill 2019