IEM Daily Feature
Friday, 07 December 2007
Snow going to stick around?
Posted: 07 Dec 2007 07:35 AM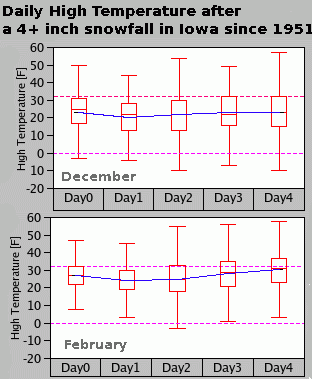 View larger image
~1500 cases each month
The featured chart plots daily high temperature distributions for days on and after a 4 inch+ snowfall grouped by December and February. The chart is an indirect attempt to evaluate how common above freezing air temperatures are after a significant snowfall. The first thing you may notice is the sharply lower and less variable temperature distribution that happens the immediate next day after a snowfall. This is due to the common cycling of low and high pressure systems, so the day after a snowfall is often characterized by a high pressure system that clears out the skies allowing maximum heat loss at night and a cold air mass during the day. The daily means are connected by the blue line which shows the impact of climatology as daily temperatures are warming in February, while slightly negative in December. The actual forecast for the next 7 days calls for sub freezing temperatures for most of the state, so the snow will be around and potentially added to with more storms on the way.
Voting:
Good = 33
Bad = 10
Tags: snow