Past IEM Features tagged: heavysnow
---
10 Dec 2009 05:14 AM
The featured map is an analysis of snowfall reports from our recent storm system showing a swath of a foot or more of snow. The big story was the strong winds which made snow removal nearly impossible. The good news is that winds have weakened, but very cold air is now in place and winter will be here to stay for a while.
Voting:
Good: 69
Bad: 10
Tags: heavysnow
---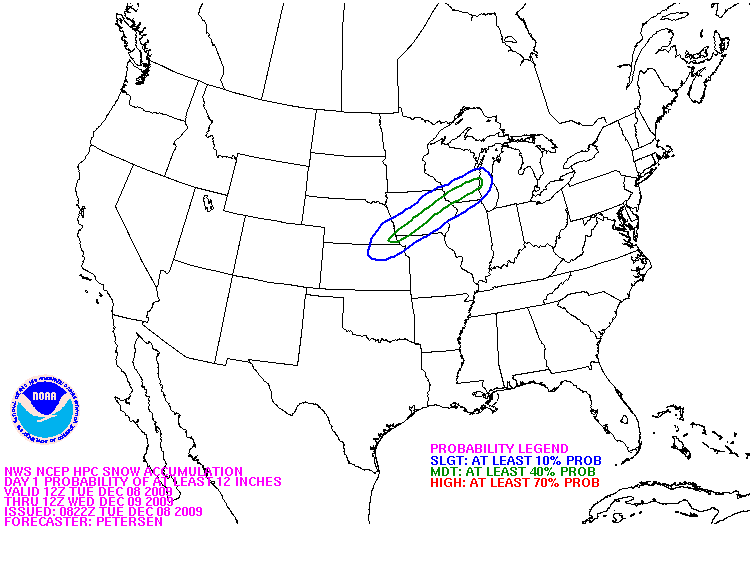 08 Dec 2009 06:17 AM
The featured map is the
HPC
probability forecast of 12+ inches of snow through Wednesday morning. Snow is already falling this morning with snowfall rates expected to intensify by mid-afternoon. The major concern is then a significant increase in wind speeds this evening with near blizzard conditions likely for a good portion of the state. An interesting aspect of this storm is that having snowfall total robbing rainfall is unlikely, so all available moisture will go for snow production.
Voting:
Good: 41
Bad: 8
Tags: heavysnow hpc
---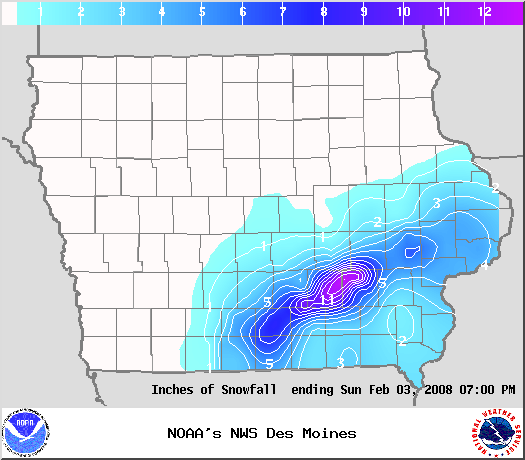 04 Feb 2008 07:20 AM
An intense band of snowfall setup Sunday afternoon and dumped upwards of a foot of snow over a small area. The featured map is from Des Moines' Weather Bureau showing the snowfall reports up until Sunday night. Another winter storm is impacting Iowa this Monday with some storms producing lightning and thunder! Looks like a rough few days of winter this week as the large scale weather pattern remains very active.
Voting:
Good: 26
Bad: 8
Tags: heavysnow